Make It Happen: A Better Penang for Women
地点
The Whiteaways Arcade
日期
March 01, 2015
主办单位
檳州婦女發展機構(Penang Women's Development Corporation-PWDC )
详情
【日期】:3月1日 至4月1日
【活動頁面】:
https://www.facebook.com/events/853932761311868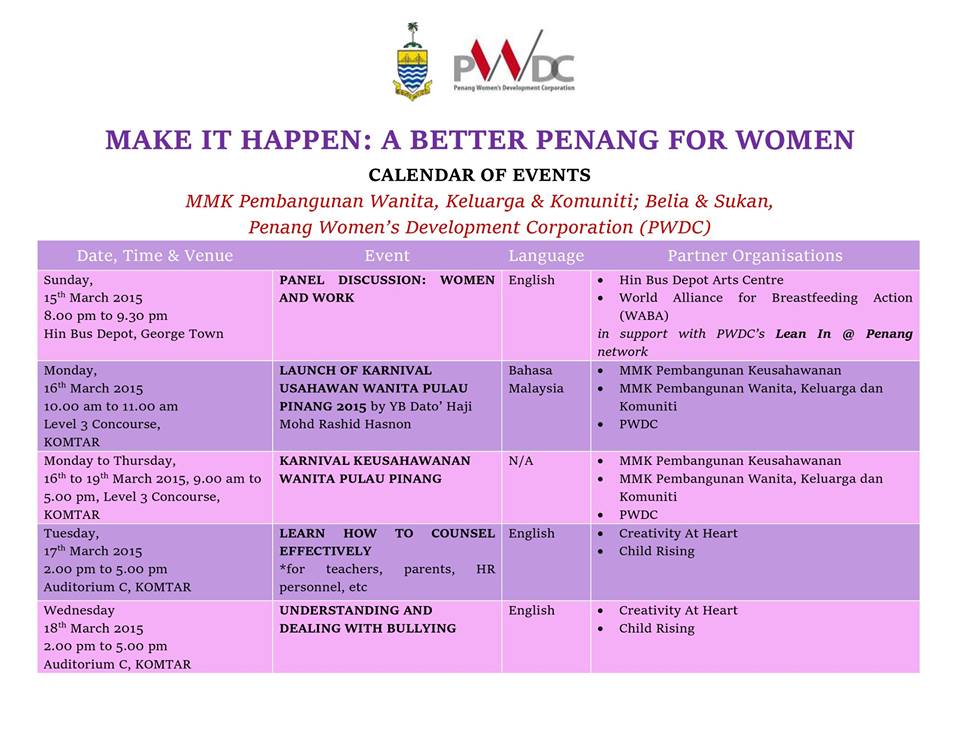 【活动内容】
This March 8, the world will be observing International Women's Day (IWD), as it has since the early 1900's. It is a day to celebrate and remember the many struggles women have overcome and the many achievements made by great and ordinary women throughout the world.

With the theme MAKE IT HAPPEN, the focus of IWD this year is very much in line with what Penang Women's Development Corporation (PWDC) is working towards for 2015. We want to MAKE IT HAPPEN: A BETTER PENANG FOR WOMEN.

Since its establishment in 2011, PWDC has been working towards transforming Penang into an advanced and progressive society. We promote equality among all women and men, girls and boys regardless of ethnicity, religion, gender or socioeconomic background.

We believe that the people of Penang are the state's most valuable capital, and that women have as much to offer as men do. Women, who make up half of the population mustnhave the opportunities, rights and freedoms to develop their full potential as citizens, and contribute to achieving the visions and aspirations of the state.